Featured Listing
Based in Harrogate we provide private midwifery care during pregnancy, childbirth and postnatally throughout Yorkshire.
Appointments are flexible and generous at times and venues to suit you. For care during labour and birth this can be offered either as a homebirth with two midwives present or as support from your private midwife in hospital.
For more information on these services and our other pregnancy services please visit our website at www.bespokebirthing.co.uk
Featured Listing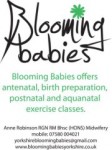 Aquanatal will help you maintain or increase your fitness and well being throughout your pregnancy. This enjoyable exercise is designed to help you cope with labour, provides a sense of well being and an opportunity to meet other new mums to be, in a warm, friendly, fun and safe environment.
Aquanatal: Monday 6.45pm-7.15pm Nuffield Health Harrogate, Hornbeam Park Rd, Harrogate, HG2 8RA
Aquanatal: Tuesday 10.30am-11.15am Nuffield Health Harrogate, Hornbeam Park Rd, Harrogate, HG2 8RA
Cost £40 – 5 x classes. Cost £8 – 1 x class from 35 weeks. Concessions for Nuffield members (£25- 5 x classes, £5- 1x class)
Classes are suitable from 12–41 weeks pregnant. Non-swimmers welcome. Advanced booking required
Led by Midwife Annie Robinson
Contact Annie Robinson 07580004021
yorkshirebloomingbabies@gmail.com
www.bloomingbabiesyorkshire.co.uk
Qualified Nurse RM BHsc (Hons) Midwifery, Aquanatal level 1 & level 2, Diploma in Teaching Infant Massage (Instructor Course)
Featured Listing
My name is Amanda Joy. I have been working and studying in the field of complementary medicine since 1999. I started my career working for the NHS, in spinal injuries, my patients were quadriplegic and ventilated. Many reported feeling extreme pain, even with a full break to their spine. My western medical practitioner colleagues simply couldn't help reduce their pain so I set about researching alternative therapies.
I now offer Traditional Chinese Acupressure massage, Thai massage, Aromatherapy massage, Aroma touch, Indian head massage and Clinical Hypnotherapy. I studied counselling at The University of Aberdeen in 2005 and went on to be a part of a research project on mindfulness at Queen Margaret university in Edinburgh.
I will be teaching a Hypnobirthing course at Ripon Wellness Centre in July, and I am currently offering a mobile service. Over the next few months I will also be running courses on Mindfulness for adults, children and families at Ripon Library every Friday afternoon.  If you are interested in finding out more, about courses or therapies please check out my website and blog.
Many people are now discovering the amazing methods of hypnobirthing.  Hypnobirthing is as much a philosophy as a technique.  It is a rewarding, relaxing and stress-free method of birthing that teaches a mother, along with her birthing companion the art and joy of experiencing birth in an easier, more comfortable and often pain free- manner.   I offer a free initial consultation for clinical hypnotherapy and hypnobirthing.
Vouchers are available.  Why not treat a new mum to be.
To book call 07958578464 or book online at www.amandajoy.co.uk
If you would like to find out more, take a look at my blog and website www.amandajoy.co.uk or give me a call on 07958 578464.
"Our Maternity Services work in partnership with other agencies in Harrogate to deliver a joint approach to care for pregnant teenagers and teenage parents. Bumps2Babes is a package of care to provide antenatal care and deliver a package of information and advice sessions around lifestyles, labour and delivery, infant feeding and other health related information.
The service is provided by a public health midwife and a targeted youth support advisor."
Call the Antenatal Clinic on 01423 553010.
Click here to read more.
Community Midwifery Office: 01423 553051 (9am-5pm, Monday-Friday)
Antenatal Clinic: 01423 553010 (9am-5pm, Monday-Friday)
Maternity Assessment Centre: 01423 557531 (8am-8pm, Monday-Friday)
Harrogate and District NHS Foundation Trust, Lancaster Park Road, Harrogate, HG2 7SX
Click here for more information.
Ideal Midwifery provides doula services, private Hypnobirthing sessions, pregnancy relaxation classes and breastfeeding support.

Lisa – 07712435664
The NCT offer Antenatal courses. All you need to do is enter you post code and your due date to find one near you.
https://www.nct.org.uk/courses/antenatal/essentials-antenatal-course
Pre-Natal Pilates
Flexible Yoga and Pilates classes for all levels. Situated above Indulge Cafe in the Zone in Hornbeam Park and under Fit on Cold Bath Rd.
Time: 5.30 – 6.15pm Thursdays
Location: Go Yoga, The Zone, Hornbeam Park.
CALL: Go Yoga on 07471 933488
Leyla Erimhan
* I cover all of Yorkshire
* I believe every woman deserves support to achieve the birth she wants
* Qualified KG Hypnobirthing teacher
Please call Leyla on 07917865219